We have a large inventory of replacement parts to quickly respond to any of your needs. Our workshop and mobile units are stocked with several types of load cells to get your scale back up and running as soon as possible.
We also have several other components, such as motherboards, keyboards, printers, external displays, legs and more. If you have a problem with your scale, contact us. We'll promptly send out our technical team to make the necessary repairs.
RUGGED DURABLE UNIQUE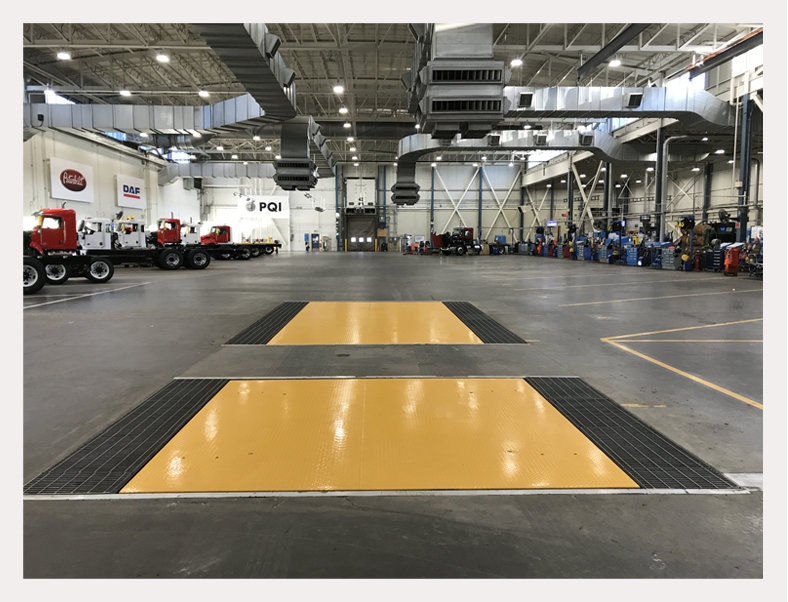 Truck scale design
BUMPER SYSTEM
To minimize platform movement when trucks drive by, the Goliath's decks are equipped with four bumpers—two 1-1/4″ lateral bumpers and two 1-1/4″ longitudinal bumpers.
OVERVOLTAGE PROTECTION
On top of the overvoltage protection provided by the summation box, each cell assembly is equipped with two one-inch high-density insulators. The protection system is completed using a grounding circuit (MAT rod not included) which ensures optimal protection of the electronic components.
MEASUREMENT CANADA APPROVAL
All our truck scales are manufactured to meet the requirements of Measurement Canada.
ADVANCED DESIGN
Our deck design allows airflow underneath the deck to prevent moisture retention and allow for even heat distribution when a heating/defrosting system is installed.
There's plenty of clearance under the deck to simplify the installation and maintenance and minimize snow removal during the winter.
The decks are uncovered to prevent water, mud, and snow from seeping inside the cells. Instead, you can easily access the internal components from the side of the unit. The decks are modular and come pre-assembled for easy installation.
SUMMATION BOX
All our scales are equipped with a high-quality summation box and modular overvoltage protection. The summation boxes on our truck scales are made of NEMA4X waterproof polycarbonate and are equipped with an anti-condensation vent and desiccant unit.
PAINT AND FINISH
All surfaces of our steel truck scales are protected from corrosion. The structure is sandblasted before being covered in marine-grade epoxy paint. Our steel truck scales have two coats of epoxy paint (for a total thickness of 8 mm) for added corrosion protection.
Our truck scales and their specifications

GOLIATH TRUCK SCALE
Type of installation
Above ground or pit
Capacity
Between 40 and 100 tonnes
Standard Width
10'/11'/12'
Standard module length
10′ to 125
Type of load cell
NTEP approved S/S column type
Manufacturing location
Entirely manufactured in Quebec
Approval
Approved by Measurement Canada
HEAVY-DUTY GOLIATH TRUCK SCALE
Type of installation
Above ground or pit
Capacity
Up to 125 tonnes
Standard Width
10'/11'/12'
Standard module length
10' to 125'
Type of load cell
NTEP approved S/S column type
Manufacturing location
Entirely manufactured in Quebec
Approval
Approved by Measurement Canada
MULTI-PLATFORM TRUCK SCALE
Type of installation
Above ground or pit
Capacity
Up to 125 metric tonnes
Standard Width
10'/11'/12'
Standard module length
10' to 90'
Plateform
Up to 5 independent weighing platforms
Type of load cell
NTEP approved S/S column type
Manufacturing location
Entirely made in Quebec
Approval
Approved by Measurement Canada
STEEL AND CONCRETE TRUCK SCALE
Type of installation
Above ground or pit
Capacity
Between 40 and 125 metric tonnes
Standard module length
10' to 125'
Type of load cell
NTEP approved S/S column type
Manufacturing location
Entirely made in Quebec
Approval
Approved by Measurement Canada
AXLE SCALE
Type of installation
Above ground, portable or pit
Standard module length
10' to 20'
Type of load cell
NTEP approved S/S column type
Weight display
Per axle and total
Manufacturing location
Entirely made in Quebec
Approval
Not for use in trade
PORTABLE TRUCK SCALE
Type of installation
Above ground
Capacity
Between 40 and 125 tonnes
Standard Width
10'/11'/12'
Standard module length
10' to 125'
Type of load cell
NTEP approved S/S column type
Manufacturing location
Entirely manufactured in Quebec
Approbatioval
Approved by Measurement Canada